Welcome!
We are a lab of evolutionary ecologists working in the Department of Biological Sciences at the University of Lethbridge.
Current research focuses on experimental and theoretical work on the evolution of senescence (i.e., 'aging'), using a demographic approach.
Other topics, typically completed with collaborators, include plant molecular ecology and biogeography, plant-insect interactions, species coexistence, and the evolution of cooperation.
Lab news
November 10, 2021 - Papers published
Former MSc students Kanishka Senevirathna and Shelby Dufton recently had papers published. See my Publications page for details.
August 26, 2021 - Congratulations!
Kanishka Senevirathna, Austin Paiha, and Suzanne Chmilar recently defended their respective MSc theses. Congratulations, Kanishka, Austin, and Suzanne!
February 19, 2021 - Congratulations
Congratulations to Pri Dutt (below), who was recently awarded an Alberta Conservation Association Grant in Biodiversity.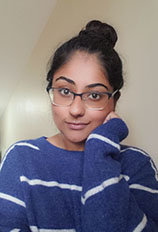 September 2, 2020 - Welcome
Priyanka Dutt (above) has joined the lab as an MSc student. Welcome, Pri!

July 31, 2020 - UQ
Rob recently completed a one-year sabbatical in the School of Biological Sciences at the University of Queensland (above). Thanks to my host researchers, my home- (UL) and home-away-from-home (UQ) institutions, and Australia for the opportunity of a lifetime!
February 3, 2020 - Papers accepted
Several new papers have been accepted in the past year. See my Publications page for details.