Resetting a Dell TB16 Thunderbolt dock
Posted: Mar 11, 2019 15:03;
Last Modified: Apr 04, 2021 12:04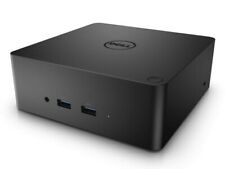 I have a TB16 Thunderbolt dock to act as a hub for my screens, internet, camera, and so on. Over the last couple of years, I've come to use two techniques for resetting it
Resetting from "bricked"
This one I discovered when the dock was "bricked" (i.e. completely dead and unresponsive). But I use it quite often to reset the USB for peripherals (I have a real problem adding tablets (WASCOM or Remarkable) or phones (Android) via USB via the dock: it somehow seems to kill the dock's ability to work with peripherals and then I use this to reset it (while rebooting the computer)).
The original post:
This afternoon I came back from a meeting and my computer was hibernating and the dock was dead: no power light, no light on the Thunderbolt cable, no response to commands, and no screen, sound, or internet pass through.
Looked through the Dell troubleshooting guide and found nothing.
In a chat with a tech, they told me how to reset the dock (I don't see this anywhere obvious on the Dell site):
Unplug the dock from power and from the computer
Hold the power button on the dock down for 45 seconds
Plug everything back in
Power up.
That worked.
Resetting screens
Sometimes, my computer doesn't seem able to read or recognise screens through the dock (this often happens when I get the peripheral crash discussed above). Even after the computer and dock have been reset it doesn't seem to see the screens. What I do in that case is unplug and replug each of the cables going to the screen in turn. They start to work after that.
Comment [40]