My Research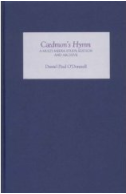 As a researcher, I write books, articles, and lectures on various topics, mostly having to do with medieval language and literature, the history of the book, textual scholarship, and humanities computing. My most recent major publication is Cædmon's Hymn: A multimedia study, edition, and archive. You can find a complete list of my publications and lectures in my CV.
I am also associated with three international research projects: The Digital Medievalist Project, The Visionary Cross Project, and the Text Encoding Initiative:
I am the founding director of the The Digital Medievalist Project. This is an international Community of Practice dedicated to the development and dissemination of best practice in the use of digital media by medievalists. It operates an on-line scholarly journal, mailing list, Wiki, and resource centre.
I am currently chair of the Text Encoding Initiative (

TEI

). The

TEI

is an International Consortium responsible for the development and maintenance of

XML

standards for the encoding of scholarly texts. It is recommended by major granting agencies including the NEH in the United States and the AHRC in the United Kingdom. You can find out about the

TEI

, including membership and subscription options, at its website: http://www.tei-c.org/.
With Professor Catherine Karkov of Miami University, Ohio (University of Leeds, January 1, 2007-) and Dr. Roberto Rosselli Del Turco of the Università degli studi di Torino, I am co-director of the The Visionary Cross Project. This research project that will ultimately produce an electronic edition of the "Visionary Cross" cultural matrix in Anglo-Saxon England.
I will post copies and offprints from my publications here whenever possible and as time allows. At the moment these postings are biased towards my on-line work with Digital Humanities; I am investigating my copyrights on my print research.
---
(read more..)
Last modified: Monday July 23, 2007. 16:15 (MDT)
(read more..)
Last modified: Sunday July 22, 2007. 18:23 (MDT)
The last decade or so has proven to be a heady time for editors of digital editions. With the maturation of the digital medium and its application to an ever increasing variety of cultural objects, digital scholars have been led to consider their theory and practice in fundamental terms (for a recent collection of essays, see Burnard, O'Keeffe, and Unsworth 2006). The questions they have asked have ranged from the nature of the editorial enterprise to issues of academic economics and politics; from problems of textual theory to questions of mise-en-page and navigation: What is an Edition? What kinds of objects can it contain? How should it be used? Must it be critical? Must it have a reading text? How should it be organised and displayed? Can intellectual responsibility be shared among editors and users? Can it be shared across generations of editors and users? While some of these questions clearly are related to earlier debates in print theory and practice, others involve aspects of the production of editions not relevant to or largely taken for granted by previous generations of print-based editors.
(read more..)
Last modified: Wednesday May 23, 2012. 19:54 (MDT)
The sense that the participatory web represents a storming of the informational Bastille is shared by many scholars in our dealings with the representative that most closely touches on our professional lives—the Wikipedia, "the encyclopedia that anyone can edit". University instructors (and even whole departments) commonly forbid students from citing the Wikipedia in their work (Fung 2007). Praising it on an academic listserv is still a reliable way of provoking a fight. Wikipedia founder Jimmy Wales's suggestion that college students should not cite encyclopedias, including his own, as a source in their work is gleefully misrepresented in academic trade magazines and blogs (e.g. Wired Campus 2006).
(read more..)
Last modified: Wednesday May 23, 2012. 19:56 (MDT)
In 1998, a few months into the preparation of my electronic edition of the Old English poem Cædmon's Hymn (O'Donnell forthcoming), I published a brief prospectus on the "editorial method" I intended to follow in my future work (O'Donnell 1998). Less a true editorial method than a proposed workflow and list of specifications, the prospectus called for the development of an interactive edition-processor by which "users will […] be able to generate mediated ('critical') texts on the fly by choosing the editorial approach which best suits their individual research
or study needs" (O'Donnell 1998, ¶ 1).
(read more..)
Last modified: Wednesday May 23, 2012. 20:02 (MDT)
I'd like to begin today by telling you the story of how I came to write this paper. Ever since I was in high school, I have used a process called "constructive procrastination" to get things done. This system involves collecting a bunch of projects due at various times and then avoiding work on the one that is due right now by finishing something else instead.
(read more..)
Last modified: Wednesday May 23, 2012. 20:05 (MDT)
Most theoretical discussions of electronic editing attribute two main advantages to the digital medium over print: interactivity and the ability to transcend the physical limitations of the page. From a production standpoint, printed books are static, linearly organised, and physically limited. With a few expensive or unwieldy exceptions, their content is bound in a fixed, unchangeable order, and required to fit on standard-sized, two dimensional pages. Readers cannot customise the physical order in which information is presented to them, and authors are restricted in the type of material they can reproduce to that which can be presented within the physical confines of the printed page.
(read more..)
Last modified: Wednesday May 23, 2012. 20:06 (MDT)
It is, perhaps, the first urban myth of humanities computing: the Case of the Unreadable Doomsday Machine. In 1986, in celebration of the 900th anniversary of William the Conqueror's original survey of his British territories, the British Broadcasting Corporation (BBC) commissioned a mammoth 2.5 million electronic successor to the Domesday Book. Stored on two 12 inch video laser discs and containing thousands of photographs, maps, texts, and moving images, the Domesday Project was intended to provide a high-tech picture of life in late 20th century Great Britain. The project's content was reproduced in an innovative early virtual reality environment and engineered using some of the most advanced technology of its day, including specially designed computers, software, and laser disc readers (Finney 1986).
(read more..)
Last modified: Wednesday May 23, 2012. 20:08 (MDT)
In May 2004, I attended a lecture by Elizabeth Solopova at a workshop at the University of Calgary on the past and present of digital editions of medieval works.1 The lecture looked at various approaches to the digitisation of medieval literary texts and discussed a representative sample of the most significant digital editions of English medieval works then available: the Wife of Bath's Prologue from the Canterbury Tales Project (Robinson and Blake 1996), Murray McGillivray's Book of the Duchess (McGillivray 1997), Kevin Kiernan's Electronic Beowulf (Kiernan 1999), and the first volume of the Piers Plowman Electronic Archive (Adams et al. 2000). Solopova herself is an experienced digital scholar and the editions she was discussing had been produced by several of the most prominent digital editors then active. The result was a master class in humanities computing: an in-depth look at mark-up, imaging, navigation and interface design, and editorial practice in four exemplary editions.
(read more..)
Last modified: Wednesday May 23, 2012. 20:09 (MDT)