Although there can be over 700 verb and participle endings of a regular Greek verb, these forms are largely composite. If you know a few endings and tense indicators, you will be able to construct (or deconstruct) most of the endings.
The following chart lists the major endings as they are likely to be encountered in Greek texts. There is no attempt here to trace older forms out of which these endings developed (as could be done, particularly for the forms listed as Type "A" below).
PRIMARY AND SECONDARY FORMS:
Present, Future and Perfect tenses use the primary forms. The past tenses (Aorist, Imperfect and Pluperfect) use the secondary forms.
TYPE "A" AND TYPE "B" FORMS:
Actives use type "A" forms; Middles and Passive use type "B" forms.

Aorist Passives use type "A" forms.
Minor exceptions are found in the Perfect and Pluperfect forms. These must be memorized.
NOTE: The thematic vowel sounds could be represented by a corresponding long vowel or diphthong.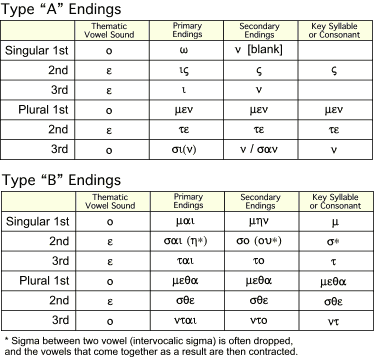 ---

M is a dominant letter of first person forms. Remember that "M" is the initial letter of many first person pronouns in English (my, me, mine).
S is the dominant letter of second person forms. Remember the "S" for second.
T is the dominant letter of third person forms. Remember the "T" for third.
_____

S: Any verb ending in sigma is second person singular.
NT is the dominant form of third person plural forms. Perhaps this can be remembered by Numerous Third Persons (third plurals).
---

The thematic vowels ("O" and "E") are the vowels in the word "vowel." V
O
W
E
L