Teaching prescriptive grammar hurts student writing

_Update: Actually, the chart I was really thinking of can be found here.
The other day in my grammar class, I mentioned an article that reviewed years' worth of controlled studies into methods of composition structure. The article I was thinking about was George Hillocks, Jr., "What Works in Teaching Composition: A Meta-Analysis of Experimental Treatment Studies," American Journal of Education 93.1 (1984): 133–170.
The table I was thinking of in class is from page 157: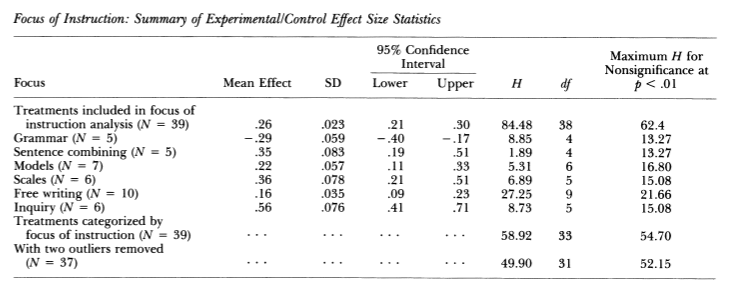 I'd overstated this conclusion a little: while teaching grammar was indeed the only thing people did that made student writing worse, I was wrong when I said it had a greater effect in absolute terms than any other method.
On the more general question of whether teaching grammar is effective, here is Hillock's conclusion:
Grammar.-The study of traditional school grammer (i.e., the definition of parts of speech, the parsing of sentences, etc.) has no effect on raising the quality of student writing. Every other focus of instruction examined in this review is stronger. Taught in certain ways, grammar and mechanics instruction has a deleterious effect on student writing. In some studies a heavy emphasis on mechanics and usage (e.g., marking every error) results in significant losses in overall quality. School boards, administrators, and teachers who impose the systematic study of traditional school grammar on their students over lengthy periods of time in the name of teaching writing do them a gross disservice that should not be tolerated by anyone concerned with the effective teaching of good writing. Teachers concerned with teaching standard usage and typographical conventions should teach them in the context of real writing problems (160).
Although you need to be careful, because the results are not alway independent, this conclusion has been reached time and time again in different contexts over at least the last forty years. One relatively recent study from an English context is: Dominic Wyse, "Grammar. For Writing? A Critical Review of Empirical Evidence," British Journal of Educational Studies 49.4 (2001): 411–427.
The History of the Form Revisited

I mentioned in a previous post an article which attributed the origins of the five-paragraph essay to the early 20th century in Germany. Unfortunately, this snippet was the only glimmer of knowledge I could acquire for some time. After searching vainly for weeks for more about the history of the form, I was today finally gratified when I stumbled across an article called "The Five Paragraph Essay: Its Evolution and Roots in Theme-Writing", by Matthew J. Nunes.
This article traces the commonly perceived origins of the form, describing its basis in the realm of current-traditionalism, which had its day between 1870-1920. While the article is actually questioning the origins of the form in this period, it does concede the solid placement of the form within the period which I think is worth describing here.
While the sophisticated and intelligent readers of this blog may be familiar with current-traditionalism, I myself was not. Nunes describes the main features of current-traditionalism "as being an emphasis on product over process" (297), as well as a great emphasis on rules and results. As Nunes says, "[i]nvention, in current-traditionalism, is essentially disregarded in favor of rule-based arrangement" (299).
This certainly seems to describe how we use the five-paragraph essay today; as a formula into which any argument can be implemented and the result satisfactory. But, as Nunes so eloquently puts it, "the fact that the five-paragraph essay is an important current-traditional form does not mean that it originated in current-traditionalism" (297).
While Nunes is actually disputing the claims of origin in current-traditionalism, he agrees with many points that are an interesting insight into the history of the form. He mentions how textbooks from the current-traditional period often contained "how-to" sections for writing paragraphs and longer essays that ended up much like our five-paragraph form today.
What Nunes is really suggesting is that the form came from the development of Theme writing, in the same period as that of the current-traditional. A similarly structured form of writing, it included "detailed directions and assignments" (301). The title is relatively self-explanatory; it indicates a theme on which students are supposed to write and create an argument. This format is common today in written examinations (301). These themes included directions for an introduction, body paragraphs, and a carefully summarized conclusion. But while Theme writing was popular and widely used in the current-traditional period, it was in use even before the Civil War in America (304). The same standards were in use in Great Britain, as their educational system continued to "dominate American language instruction long after she had ceased to dominate America politically" (Armstrong 71, qtd. Nunes 305).
Nunes notes the more rigidly structured evolution of theme writing from Montaigne's original attempt at the essay. Much as they are used today, theme writing was used to teach students the basics of essay writing before they moved on to more complex discussions (306). He goes on to explore theme writing throughout history, noting references to the practice by John Locke, and others in the 17th century ( 308), with much of the strength of the form being created even earlier, in the 16th century.
As a nice sum up, Nunes states that, in reference to the five paragraph essay that pervades and plagues our educational institutions "its history can inform our understanding of why it persists" (309). In this, Nunes also addresses my frustration in the inability to find scholarship addressing the beginnings of the five paragraph form. There is little that tells us how it came to be, and instead of questioning this invisibility, we simply take it as a symbol of its undisputed supremacy.
This article offers a neatly placed glimpse into the possible origins of the form that is so cemented into our educational system. With its history, we are offered the opportunity to place the form in our own context, and make the invisible seen, bringing understanding to our practices and how we may change them.
Work Cited
Nunes, Matthew J. "The Five-Paragraph Essay: Its Evolution and Roots in Theme-Writing." Rhetoric Review 32.3 (2013): 295–313. Taylor and Francis+NEJM. Web. 4 July 2013.
Developing complex arguments

This is an exercise intended to give students techniques in developing complex literary theses. The problem it addresses is the tendency many students have to argue the obvious: either argue that the plot unfolds the way it does or that certain fairly obvious topics and themes are present in a work. It probably works best at the beginning of a unit on a given work, before any lectures or other directed discussion.
Put the students in groups of 4 or 5.
Ask the students for the most striking things they saw in the work: what it was about, any obvious themes, striking things about the characters, striking events or speeches. In a recent discussion of O'Neill's Long Day's Journey into Night we came up with things like: the play takes place in a day; all the main characters show an addiction to something; the family seems to be very disfunctional; there is no resolution—they sound like they've been having this argument forever.
Take a couple of these observations either simultaneously (assigned each to a different group) or collectively (each handled by all the groups in turn) and ask the group to argue the opposite of the observation—in the case of O'Neill's play, for example, that it is wrong to see the play as taking place all in one day, or that the familiy isn't disfunctional, or alcohol and drugs aren't the problem in the story. In constructing their arguments, the groups need to observe the following rules:

They can't deny actual facts: so you can't argue, for example, that the characters in Long Day's Journey into Night are only hallucinating that it is a single day.
They can't use "might be" or "could be": all arguments need to be demonstrable textually.

As usual, go round the groups asking for arguments and evidence. Ask other groups for ways of expanding, improving, or contradicting proposals.
Developing Essay Topics in Class

This is a method I use with some success to develop essay topics collectively, in-class.
Ask each student in the class to prepare in advance an essay topic that would be helpful to somebody else in the class.
On the class day, divide the class into groups of four and ask each group to review all the members' topics.

Optional: before asking the class to discuss the topics amongst themselves, ask them about essay topics they have had in the past that have worked or not. Try to build a sense of what types of topics exist and what makes for a good (and bad) topic. If discussion falters, ask the groups to come up with something.

After reviewing and discussing the topics amongst themselves, each group is to come up with a single essay topic for the rest of the class. This can be based on one of the four proposals, modified from a proposal, or completely new based on their discussions.
Go through each of the groups in turn, asking to hear what their best topic is. Write up the topic on the board.
After all groups have been heard from, go back through the topics, this time asking others to comment on strengths, weaknesses, ways of extending the topic, focussing it, etc.
At the end of the exercise ask each group to nominate a secretary, whose job it is to mail a single topic to the class based on their group's proposal and the commentary they received.