Academic Suicide

The so-called "college paper" has been a debated topic practically since its initial inception. A recent class statement brought the debate to the forefront of my mind. Professor O'Donnell stated, in a tone of bemusement, that his students tend to perform better on the blog assignments than on their actual papers. It does seem odd that a discrepancy exists between two writing exercises. However, the answer formed almost immediately within my thoughts and has expanded through the discussion of prescriptive rules versus descriptive. The reason students are so terrible at writing the "college paper" boils down to differences between prescriptive rules and descriptive rules. With that I commit myself to academic suicide by breaking the general guidelines and prescriptive rules of academic writing and adhering only to grammatical prescriptive rules and a more formal dialect to explain the phenomenon of why students are incapable of writing the traditional North American college paper.
In terms of grammar, students are already limited in the way that they can communicate their ideas in a paper by having to adopt a more prescriptive based, formal dialect. I am NOT arguing that students can get by in the world, and more specifically their university career, without an academic and more formal dialect. Just like the young student with only a formal, prescriptive dialect who is beaten up on the schoolyard for not having a more descriptive based dialect that allows him or her to fit in (Wallace 51), the university student will be figuratively beaten up in the classroom if they do not possess a formal, more prescriptive based dialect. It is necessary for university students (and anyone who wants to be successful in the English-speaking world) to adopt a second (or third or fourth) dialect that allows them to fit into their surroundings. There are various situations in which prescriptive rules should be relied on more heavily than descriptive rules and vice versa.
Professors, however, ignorant of the fact that students are already restricted by a dialect that may not be second nature, impede the ability for students to effectively communicate their ideas further by creating their own set of stylistic prescriptive rules. In the Humanities (and Sciences) it is a major faux pas to use first person pronouns. The only time 'I' may be acceptable in a paper is when it is used to clarify the student's argument from a secondary source. 'Helpful' topic ideas only serve as an agent of restriction, tightening the figurative noose around students' ideas. There are few things more disheartening in the post-secondary experience than completing an essay that has veered so far from the original topic that it almost seems pointless to hand it in. Whether well-written or not, whether ideas have been communicated appropriately and interestingly in an academic dialogue does not matter to professors who set guidelines. The paper that succeeds in communicating ideas may receive a lower grade if it does not meet the guidelines. Professors need to realize that the more prescriptive rules they place on their papers, the worse students' papers will be. The more rules, the more confining the box that students need to fit their ideas into. This is why students perform so much better on blogs. A blog has no rules aside from one: it must be "within shouting distance of the course" (O'Donnell). Students are therefore free to express themselves and communicate the ideas that they find interesting in compelling and captivating ways. After reading several blogs, despite the lack of rules, it becomes evident that there is a second, unwritten rule that comes naturally to almost all university students: they use a more prescriptive based, formal dialect than what their typical descriptive dialect would permit.
Another guideline or prescriptive rule set out by professors is the limitation of secondary sources to scholarly articles. Although it is understandable that the use of websites like 'Wikipedia' should be maintained to a minimum, it is another guideline that prevents the development of strong, relevant ideas that support the argument. With social media permeating our everyday lives, professors need to accept changing times. Why should a student be restricted from using blog posts of highly educated people in respectable positions? Why does a professor's journal article garner more merit than a post on their blog site? It shouldn't; and even one of the 'scholarly articles' cited for this paper (Steven Pinker's "Grammar Puss") can be found in a blog. Clearly this prescriptive rule of how research material for papers ought to be gathered is about as outdated as the grammatical prescriptive rules that, as Steven Pinker points out, are based on Latin and 18th-Century fads (20).
The problem, however, is the fact that prescriptive rules are extremely difficult to abolish. They have become so engrained into our minds that we don't challenge them. This fear of driving change is also perpetuated by "the worry that readers will think [the author] is ignorant of the rules" (Pinker 20). As a result we limit our thoughts and ideas and force them into tiny, prescriptive boxes. We avoid engaging in a dangerous game of Russian Roulette with our grades by playing it safe and coughing up redundant, highly repetitive, excruciatingly painful to read, and bluntly put, shit. The failure of the college paper is not due to the students, as Rebecca Shuman so strongly states in her blog post "The End of the College Essay", but that of the professors who are not willing to wake up to the 21st Century and rethink their own set of restrictive, prescriptive rules.
I personally used to love writing. I enjoyed it. I didn't even mind writing essays. And I wrote good ones. Over 50% of my class failed the first essay in my English 1900 course. I received a grade over 90% and embarrassingly had to tell the girl beside me who had received an abysmal 4% that I had done very well and leave it at that. Somewhere along the way, however, something changed. Professors implemented more guidelines and maybe even my own standards rose. Whatever the cause, the outcome is the same, I no longer feel capable of writing essays. How can I when students are repeatedly informed that they do not know how to write essays and are incapable of producing good ones? I am now so replete with anxiety concerning whether or not my essay will be long enough (or too long), if it will sound academic enough, and whether it will actually relate to the topic, that I have become immobilized. I do half-assed, last minute essay writing to avoid the stress of completing something that I may be simultaneously proud and doubtful of because it is well-written but does not fit into a professor's prescriptive rules. I would rather accept a lower grade on something that I slapped together the night before it was due than have hard work torn apart by a "SNOOT" professor (Wallace "Tense Present").
The reason students are incapable of writing college papers is not because of some kind of innate inability nor is it because students do not possess an academic dialect. The students are not to blame for their poor attempts at the "college paper"; it is the professors who need to realize the defeating, restricting effects of their prescriptive rules who are to blame. Just like the machine that is capable of duplicating human language in Pinker's "Grammar Puss", students are given a number of prescriptive rules to follow and just like the machine, we sit there, immobilized, unable to communicate our ideas (19). Prescriptive rules should be relied on more heavily when it comes to the college paper and academic writing, but without descriptive rules students, like the machine, don't know how to say what they want to say. Perhaps if allowed to break the rules, students could actually write the infamous "college paper".
Works Consulted
O'Donnell, Dan. English 2810. 8 Jan. 2014
Pinker, Steven. "GRAMMAR PUSS. (Cover Story)." New Republic 210.5 (1994): 19-26. Business Source Complete. Web. 14 Jan. 2014.
Schuman, Rebecca. "The End of the College Essay." Web log post. Slate. 13 Dec. 2013. Web. 16 Jan. 2014
Wallace, David Foster. "Tense Present: Democracy, English, and the Wars Over Usage." Harper's Magazine 04 2001: 39-58. ProQuest. Web. 14 Jan. 2014
Grammar and identity: Prestige, gender, and sexual orientation

A number of student in my grammar class have written essays about relative prestige in terms of grammar.
The Wikipedia has a very good entry on linguistic prestige (their linguistic entries are generally very good).
Particularly interesting for many, might be the section on gender and prestige. This section discusses what has become a rule of thumb in socio-linguistics, that men tend to speak a variety that is lower than their actual social class (i.e. is perceived by the speech community as being characteristic of a lower class) whereas women either speak at their social class level or above it.
The usual view is that men are the marked group in this (i.e. that is to say the reason for the difference is that men are doing something, rather than women). What it is thought is going on is that for men, the use of a lower class variety is a form of "covert prestige," that is to say acquiring prestige in a counter-intuitive way by asserting a lack of prestige (sort of like a false humility or humble brag). In the case of men, this shows up in that they often claim to speak a lower dialect than they actually do.
There are some really neat studies of this. One recent one, cited by the Wikipedia, looks at Fraternity Brothers use of [n] rather than [ŋ] in words ending in – ing (most English speakers consider "dropping your g's" in this context—that is to say using [n] rather than [ŋ] to be less prestigious).
Whether women speak a more prestigious dialect than their actual class or not is more of a subject of debate. Again the Wikipedia has some interesting references.
The foundational study in all this is William Labov's famous study of "New York Shop Girls" and their use of /r/. New York city (and New England more generally) is a non-rhotic dialect area (meaning they drop the /r/ in words like Harvard or yard (broadly /havəd/ instead of /harvərd/ and /jad/ instead of /jard/) Since the second World War, however, rhotic pronunciation has been considered more prestigious. What Labov did was spend a day going round different department stores asking the sales clerks questions for which the answer was "the fourth floor." His theory was that sales clerks in a higher end store (like Saks) would tend to be more rhotic (that is to say more likely to pronounce the /r/ in fourth) than those working in a lower end department store like Kleins. And that those in a mid-range store (like Macy's) would be between the two in frequency.
The answer was exactly what he thought it would be:
the employees at Saks pronounced r most often, Macy's employees pronounced r less often, and at S. Klein, seventy-nine percent of the respondents said no r at all. Another trend Labov noticed was that at all three of the stores, but Macy's in particular, when prompted to say "fourth floor" a second time, employees were much more likely to pronounce the r (Wikipedia).
Finally, on a some what orthogonal note, there's this study: Sexuality in Context: Variation and the Sociolinguistic Perception of Identity, Language in Society 36.4 (2007): 533-554.
This article illustrates the use of an empirical method for examining the perceptual identification of gayness in male speakers. It demonstrates how, by digitally manipulating the speech of isolated individuals, it is possible to obtain reliable evidence that pitch range and sibilant duration may act as indexical of a gay male identity. Further scrutiny of this result, however, illustrates that linguistic indexicality is not as straightforward as it originally appears. Subsequent analyses of the data highlight the ways in which the perceptual evaluation of sexuality is a highly contingent process, dependent upon a variety of sociolinguistic factors. An envelope of variation in listeners' affective judgments of a speaker is shown to exist, and it is argued that research on the perception of identity must go beyond identification of salient features, and also consider when and why these features are not salient.
Why doesn't anybody ever tell you this stuff? On the origins of the masculine and feminine pronouns.

I just discovered the most amazing posting about pronouns in the American Bibliopolist.
There are many perfectnesses in this work. But the best, by far, must be his excursus on the origins of he and she:
It would be a fortunate thing for us if there were any fossil remains of language. We could then discover in the rock of the earliest words made use of, many of which are necessarily buried in oblivion, and so arrive at some conclusion respecting the invention of our masculine pronoun he. It is supposable, and, indeed, only supposable, that it first found utterance through the lips of a woman, an event something like the dropping of pearls from the lips of the girl in the fairy tale. The Scotch woman always speaks of her husband as he. In the days of courtship her maiden timidly prevented her particularizing him. Besides, what need had she to specify the one who was all the world to her? He must assuredly have been the only masculine pronoun in her vocabulary. Notwithstanding these auspicious circumstances, he has had some difficulty in holding his own till the present. In some writings of the 16th century a simple a was substituted. However, this crisis was safely passed, and the form of the word is the same now as at first.

Upon this great event, this bestowal of a general name upon man, a solemn assembly of bachelors was convened to return, if possible, the compliment. Many admirable suggestions were advanced, and at last a happy thought occured to one of the most liberal, that as woman is man's equal, her title should be the same except the prefix of a line symbolic of grace and beauty. Taking the most perfectly curved letter of the alphabet to convey this idea, the feminine pronoun was produced. Woman having a name, station soon followed, and station brought possession, and possession made her an object of desire. But as her nature was not supposed to stoop to avarice, and she was more to be sought than one to seek, possessive and objective were the same for her, with the addition of the letter which originally distinguished her from man.
So there you have it: the masculine pronoun as phallic worship, with some resulting performance anxiety creating unpleasantness in the 16th century; the feminine nominative pronoun as a kind of linguistic Coca Cola bottle; and her that dares not speak its name, giving women an aliba when they are accused of avarice.
It's so neat, it could almost be an evolutionary psychology of language!
Morphology and destiny: On words for snow and Sapir-Whorf

We had a lot of fun in my grammar class yesterday.
We were beginning a unit on morphology. The night before class, I had carefully prepared lecture notes on my tablet (I'm using a new textbook this year and taking the opportunity to revise all my lesson plans).
For reasons known only to my tablet, however, the notes I prepared were gone when I showed up in class yesterday morning , meaning that I had to wing it after all. Since my goal for the lecture was to derive a typology of English morphology from my students innate grammatical knowledge, I decided simply to write a bunch of different types of words on the board and see where things took us: dog, books, do, does, revert, convert, I'll, we'd, and… undoifications.
Turned out this last was an inspired choice. One student clapped every time we managed to put one of the sub-forms into a meaningful sentence and the student blogs are full ideas stoked by the example: one student went home and impressed his or her parents with the newly acquired ability to break the word down and demonstrate how its component morphemes worked; another said that while it hadn't entirely convinced her she should become an English major, it was at least evidence she should stay in the class.
A third mentioned the Sapir-Whorf Hypothesis and the (admittedly) extremely interesting idea that a language's grammatical and semantic categories might influence how a native speaker of a language thinks.
This gave me the opportunity to bring out one of my favorite articles on this subject, Geoffrey K. Pullum's "The Great Eskimo Vocabulary Hoax", Natural Language and Linguistic Theory 7 (1989): 275-281 (The article is also available in Pullum's Book by the same name and as a self-archived posting on his University website).
The "Vocubulary Hoax" is the claim—still very often repeated—that "Eskimos" have many more words for snow than speakers of other languages such as English. And that this large vocabulary allows them to have conceptual categories in relation to snow that speakers of other languages cannot easily share (I use the term "Eskimo" here rather than Innuit, because, as Pullum shows, the claim has nothing to do with the actual Innuit: it is really about our perceptions of "the other").
As Pullum shows (based on work by Laura Martin), the origins of this claim lie in the introduction to Franz Boas's 1911 Handbook of American Indian Languages (oddly misidentified in Pullum as the Handbook of American Indians, which would be a completely different thing), where he discusses how there is no consistency in the phonological or morphological representation of concepts among languages:
It seems important at this point in our considerations to emphasize the fact that the groups of ideas expressed by specific phonetic groups show very material differences in different languages, and do not conform by any means to the same principles of classification. To take again the example of English, we find that the idea of WATER is expressed in a great variety of forms; one term serves to express water as a LIQUID; another one, water in the form of a large expanse (LAKE); others, water running in a large body or in a small body (RIVER and BROOK)); still other terms express water in the form of RAIN, DEW, WAVE, and FOAM. It is perfectly conceivable that this variety of ideas, each of which is expressed by a single independent term in English, might be expressed in other languages by derivations from the same term.

Another example of the same kind, the words for SNOW in Eskimo, may be given. Here we find one word, aput, expressing SNOW ON THE GROUND; another one, quana, FALLING SNOW; a third one, PIQSIRPOQ, DRIFTING SNOW; and a fourth one, quimuqsuq, A SNOWDRIFT. (25-26)
The point he seems to be trying to make is the one Saussure was making at almost the same time in his course on General Linguistics about the arbitrary nature of language (Boas: "Thus it happens that each language, from the point of view of another language, may be entirely arbitrary in its classifications," p. 26). What he was not trying to say is that language determines consciousness or controls perception. Indeed, in the final sections of his introduction, Boas, who is quite concerned with such questions about "the primitive mind," considers and dismisses the idea:
First of all, it may be well to discuss the relation between language and thought. It has been claimed that the consciseness and clearness of thought of a people depend to a great extent on their language… It seems very very questionable in how far the restriction of the use of certain grammatical forms can really be conceived of as a hindrance in the formulation of generalized ideas…. (64).

It does not seem likely, therefore, that there is any direct relation between the culture of a tribe and the language they speak, except in so far as the form of the language will be moulded by the state of culture, but not in so far as a certain state of culture is conditioned by morphological traits of the language (67).
In other words, in his passage on English and "Eskimo" words for water and snow respectively, Boas's point is simply that languages form words for related concepts in one of two arbitrary ways: by creating a series of words based on a common root or, as in these two cases, using completely different roots to express closely related ideas. While he does think that the semantic range of words available to a language will be derived in part from the culture and environment in which its speakers find themselves (we'd hardly expect a language to have words for things or situations its speakers have never come into contacts with), he does not think that this condition is deterministic. As he argues, his own fieldwork suggests that speakers of a given language are perfectly able to grasp and discuss new concepts and experiences when these are presented to them, regardless of the syntax and morphology of their languages (see in particular pp. 64-67).
Ironically, according to Pullum, Whorf formulated his idea that language does dictate understanding in part in response to Boas' example of Innuit snow vocabulary—even though Boas is, in a certain sense, bringing it forward as a way of anticipating and disproving the argument. His point is not that the Innuit have more words for snow than English speakers do; as Pullum points out, English Speakers have words for many of these and other types of snow: snow, snowfall, snow drift, powder, slush, crud, blizzard) and it seems highly unlikely that the Innuit have ever been amazed at the fact that English speakers have different words for big and small rivers.
On translating sense and syntax in Old English

A student in my Old English class asked a good question today in her class blog:
I'm confused. The point of this class is to be able to read Old English. Does this mean we are supposed to be building a lexicon that would eventually become so engrained in us that the words don't require as much of a "translation" as an innate understanding of the meaning of the text? This seems rather frightening. When I hear the words "nominative accusative singular" sweep one after the other my head begins to spin. I have to look at the dictionary three times in three minutes to remember what one word means.

I think what process seems natural to me would be to translate a sentence, and after knowing what the words are in modern English, to determine what words are nominative, objects, etc. in the translated sentence. At which point I would then transfer this over to the Old English. Is this wrong? Is the point to learn to do that without first translating it into Modern English? If so, I feel like I should break a bad habit before it starts.
The question touches on the two main issues we face in translating from Old English to Modern English: Lexis (i.e. the meaning of the words) and Syntax (i.e. the grammar that ties the words together in a sentence).
The short answer is that translating (or learning to read) Old English requires both: you need to know what the words mean and you need to know what the syntax is telling you about their relationships to each other. This means that there are really three discrete things we need to do in translating:
Understand what the words mean (i.e. in isolation). This is the lexical translation.
Understand what the syntax is saying about the relationship between the words and how this needs to be reflected in Modern English word order. This is the syntactic analysis/translation.
Incorporate the first two points into a translation that translates both the words and the word order into a form that makes sense and reflects the meaning of the original in Modern English
Although, because OE is often very close to Modern English in Syntax, it might look like you can translate the meaning of a sentence accurately by just looking up the meaning of the words and writing them out (i.e. doing a lexical translation alone or first), there are enough differences that this will lead to trouble when you get more complex Old English (especially poetry).
You can see this in Modern English if you consider the following group of words: Because had Friday money no on on Saturday Store Suzy the to Tom went.
Although we understand what all of these words mean lexically, the "sentence" they form doesn't make any sense to us because the syntax doesn't conform to any rules of Modern English (I just arranged the words alphabetically). In order to get a real sentence out of this, we need to know more about the intended syntax as well, which in Modern English means the intended word order. If I put the words in a word order that reflects Modern English syntatic rules, the sentence suddenly makes sense: Because Tom went to the store on Friday, Suzy had no money on Saturday.
Note that in the above example, the only difference between the nonsensical and sensible versions was word order. The first version did not make sense because we didn't understand the syntax, not because we didn't understand the meanings of the individual words.
The primary equivalent of this in Old English is its inflections: nominative, accusative, dative, genitive, etc (Old English relies on word order as well, but word order is less important than inflection: there is some evidence to show that scribes fail to understand sentences that have appropriate word order but errors in inflection; in Modern English, we almost always assume that word order is correct and the inflections are wrong if there is a contradiction between the two).
In order to understand fully a sentence in Old English, therefore, we need to know what endings are associated with each word in the sentence and what those endings indicate about the relationship of the word to the rest of the sentence. Because Modern English doesn't rely on inflections as much as Old English, our "translation" of our analysis of this syntax will be reflected in the word order we choose.
Now, because Modern English is descended from Old English, word order in the two languages is often identical and you can "get away" with just translating the words: e.g. Sēo sunne is miċel, "The sun is big."
The problem is that you can't rely on this: Old English and Modern English word order can diverge even in simple sentences; they do diverge in more complex sentences and especially in more literary contexts like poetry or artistic prose. If you haven't got into the habit of analysing the Old English grammar as well as translating the meanings of the words, you can run into real problems when you hit a sentence where the word order is different from what we can allow in Modern English.
Here's a simple example to show what I mean:
Þone stān slōh þæt wīf
The lexical translation of this sentence (i.e. just a translation of the words), would be as follows:
The stone struck the woman
This sentence makes sense in Modern English, so if you only translate the words, you will be tempted to stop here.
But if we analyse the endings, we'll see that a purely lexical translation gets things exactly wrong. Here is an anlysis of the endings in the sentence. ASM = accusative singular masculine, NSN = nominative singular neuter, 3SPast = 3rd person, singular, past tense:
ASM ASM 3SPast NSN NSN

(note: although stān and wīf don't have any endings, we know their grammatical information because of the demonstrative pronouns that precede them: þone and þæt respectively)
Anglo-Saxons use the accusative to indicate direct objects (amongst other things), and the nominative to indicate subjects. In Modern English, we normally use the first position in the sentence for our subjects, and the first or second slot after a verb for our direct objects. So in order to translate the sentence correctly, we also have to "translate" this syntax by moving the words around in our final translation:
The woman struck the stone
This is a simple example that could easily be real Old English (it implies that the Anglo-Saxon author wanted to emphasise that it was a stone the woman hit). But translating only the words produced exactly the wrong translation. When sentences get more complicated, the chances for things going wrong increase greatly!
So a Modern English translation actually has two translations built into it: a translation of the Old English words into Modern English words, and a translation of Old English inflections into Modern English word order. It is only when you have done both that you can be sure you understand what the sentence means.
Dolphin Language

The textbook I am using in my grammar class, The Linguistic Structure of Modern English, suggests that humans are unique in that they are the only species known to show abstract language use in the wild (they do mention the example of chimpanzees that have been trained to use sign language).
Very recent research, however, provides a potential counter example: Dolphin names. It has long been known that dolphins communicate with each other verbally. And since the 1960s, researchers have believed that individual dolphins use a "signature whistle" to identify themselves that is recognised by others in their population. What is new, however, is the evidence that dolphins use the signature whistles of other dolphins to refer to them—that is to say, recognise a particular whistle sequence as being symbolic of a particular individual dolphin, distinct from themselves.
This use of arbitrary signals to refer to a specific object, if true, would invalidate the claims in Brinton and Brinton that the symbolic use of language is unique to humans. It would also represent quite a discovery about dolphins. Until now, dolphin "language," like that of other animals, has for the most part been understood to be indexical rather than symbolic. As one researcher put it:
Deciphering "dolphin speak" is also tricky because their language is so dependent on what they're doing, whether they're playing, fighting, or going after tasty fish. It's no different for humans. Think about when you raise a hand to say hello. Under other circumstances, the same gesture can mean good-bye, stop, or that something costs five bucks. It's the same for dolphins. During fights, for example, dolphins clap their jaws to say "back off!" But they jaw clap while playing, too, as if to show who's king of the underwater playground.

"I have not found one particular dolphin behavior that means the same thing every time you see it," says Dudzinski. "If you like mysteries and detective work, then this is the job for you." And who knows—maybe someday you'll get a phone call from a dolphin.
If this new research is correct, however, dolphin "names" would represent an exception: calling an individual dolphin's signal whistle would appear to mean the same thing—and have the same arbitrary referent—in each case.
Teaching prescriptive grammar hurts student writing

_Update: Actually, the chart I was really thinking of can be found here.
The other day in my grammar class, I mentioned an article that reviewed years' worth of controlled studies into methods of composition structure. The article I was thinking about was George Hillocks, Jr., "What Works in Teaching Composition: A Meta-Analysis of Experimental Treatment Studies," American Journal of Education 93.1 (1984): 133–170.
The table I was thinking of in class is from page 157: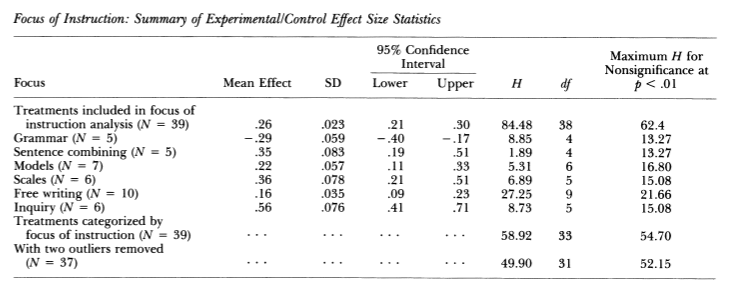 I'd overstated this conclusion a little: while teaching grammar was indeed the only thing people did that made student writing worse, I was wrong when I said it had a greater effect in absolute terms than any other method.
On the more general question of whether teaching grammar is effective, here is Hillock's conclusion:
Grammar.-The study of traditional school grammer (i.e., the definition of parts of speech, the parsing of sentences, etc.) has no effect on raising the quality of student writing. Every other focus of instruction examined in this review is stronger. Taught in certain ways, grammar and mechanics instruction has a deleterious effect on student writing. In some studies a heavy emphasis on mechanics and usage (e.g., marking every error) results in significant losses in overall quality. School boards, administrators, and teachers who impose the systematic study of traditional school grammar on their students over lengthy periods of time in the name of teaching writing do them a gross disservice that should not be tolerated by anyone concerned with the effective teaching of good writing. Teachers concerned with teaching standard usage and typographical conventions should teach them in the context of real writing problems (160).
Although you need to be careful, because the results are not alway independent, this conclusion has been reached time and time again in different contexts over at least the last forty years. One relatively recent study from an English context is: Dominic Wyse, "Grammar. For Writing? A Critical Review of Empirical Evidence," British Journal of Educational Studies 49.4 (2001): 411–427.
English 2810a: English Grammar (Spring 2014)

Note: This is a draft syllabus and is subject to revision before the last day of the add/drop period.
English 2810 Grammar is a technical course in the form and structure of the English language. Our focus will be descriptive rather than prescriptive. Students will learn how the language works in actual practice rather than how people think it ought to be spoken or written.
In addition to its intrinsic interest, the study of descriptive grammar can be useful for anybody interested in working with the English language, as it provides a framework and set of terms for understanding how the language works.
Times and location
Mon/Wed/Fri 1000-1050
PE261
Office and Office Hours
My office is room B810B. My telephone numbers, a map, and other contact information is available on my Contact page.
My office hours are TBA. In the meantime, feel free to set an appointment
Detailed description
This course is described in the calendar as follows.
The basic structures of English: word classes, sentence elements and basic aspects of syntax and morphology. Primary emphasis on descriptive grammar, though some attention will be paid to prescriptive approaches (Course description, University Calendar).
In other words, this is a course on how English is spoken and written in a variety of contemporary contexts (descriptive grammar), rather than, primarily, a course on how we are expected to write in, for example, university essays (prescriptive grammar). We will be looking at how words are formed (morphology), and how they are used in phrases, clauses, and sentences (syntax). We will be considering examples of standard, formal, "correct" English (though we will also be learning why this term is something of a misnomer), but also informal, regional, and slang variants. The goal is to learn how the language is put together.
This is a technical course that will require weekly exercises and regular attendance. The textbook is very difficult and complex. Regular attendance in class will be required. Students often report that the course is difficult but very rewarding to those who put in the requisite effort.
Learning goals
By the end of the course students should have a broad understanding of English syntax and morphology. The should be able to identify various types of linguistic structures including word classes, morphological affixes, and various types of phrases, clauses, and sentences. They should also be able to explain various common features of English grammar.
While teaching "correct" style (i.e. the standard way of writing or speaking in formal situations) is not a primary goal of the course, students who take this class will study some instances of such style and be able to explain such rules in linguistic terms.
Some attention will also be paid to linguistics in education.
Texts
Required
Brinton, Laurel J. and Donna M. Brinton 2010. The Linguistic Structure of Modern English. Rev. ed. Amsterdam ; Philadelphia: John Benjamins Pub. Co.
O'Donnell, Daniel Paul.
These texts will be supplemented with required readings from the Internet.
Assessment
The following assessment is tentatively planned for this course:
Blogs.
Student will be expected to keep a weekly blog.
A discussion of how blogs are used in my classes, with information on how they are graded and what is expected from you can be found here.
For this course, the blogs should be predominantly about English or language more generally (e.g. its structure, use, history), the course, or the exercises, lecture, and textbooks. While an occasional entry on something else is permitted, most entries should be arguably have something to do with language or this course. As always, we will alert students who are straying from this topic regularly should any problems arise.
Essays.
There are two essays in this course:
All essays are to be handed in via Turnitin" (instructions for how to sign up).
See the schedule below for due dates.
Content Reviews and Final Exam.
There will be two content reviews and one final exam. Each review will be cumulative.
All content reviews are to be written on Moodle in the Testing Centre. Here are instructions on how to sign up for Moodle
Policies
The following policies will be followed in all my classes unless otherwise announced. You are expected to be familiar with the policies reproduced here and in the more general section on my website. These additional web pages are to be considered part of this syllabus for the purposes of this course. Failure to conform to any of these policies may result in your grade being lowered.
Grade scale
The University of Lethbridge keeps track of student performance using a letter and grade point system (See section 4 of the University Calendar). Instructors assign students a letter grade at the end of each course (the University does not issue or record mid-term grades). These letter grades are converted to a numerical value (a Grade Point) for assessing overall academic performance (a Grade Point Average or GPA). The University does not record percentage-type grades and does not have a fixed scale for conversion from percentage scores to letter grades and grade points. Each instructor is responsible for determining their own methodology for determining students' final letter grade.
In my classes, I use the following letter-grade to percentage correspondences:
 
Excellent
Good
Satisfactory
Poor
Minimal pass
Failing
Letter
A+
A
A-
B+
B
B-
C+
C
C-
D+
D
F
Percent range
100-94
93-90
89-86
85-82
81-78
77-74
73-70
69-66
65-62
61-58
57-50
49-0
Conventional value
100
92
88
84
80
76
72
68
64
60
56
49-0
Grade point
4.0
3.7
3.3
3.0
2.7
2.3
2.0
1.7
1.3
1.0
0
How your grade is determined depends on the type of work being assessed. Tests of specific skills or knowledge (such as identification questions in literature classes, or fact-oriented tests in my grammar and language classes) are usually assigned a numeric score which is easily converted to a percentage. Essays, presentations, and other performance-oriented tests are usually graded by letter. I convert letter grades to percentages by taking the median value in each grade-range, and rounding up to the nearest whole percent. The only exceptions are A+ (which is converted to 100%), and F (which is converted to an arbitrary percentage between 0% and 49% based on my estimation of the work's quality). These scores can be found in the conventional value row of the above table.
In marking work I try to keep the University's official description of these grades in mind (a description can be found in the University Calendar, Part IV.3.a). If you get an A it means your work is excellent; a B means your work is good; a C means it is satisfactory; a D that it is barely acceptable (minimal pass); and an F that it is failing to meet University-level standards.
I have prepared rubrics for most types of qualitative assignments (assignments that do not expect the student simply to provide a correct factual answer). These can be found in my Academic Policies section: http://people.uleth.ca/~daniel.odonnell/Academic-Policies/
Submitting Work
Tests, Exams, and Quizzes
Tests and Exams will be written in the University's Testing Centre on Moodle. Quizzes may be presented on Moodle.
Essays and Reports
Essays and reports will normally be collected using Turnitin. Information on our account (URL, ID number, and Password) will be made available in our class space on Moodle: http://learning.uleth.ca/
Plagiarism
This course uses plagiarism detection software. Any plagiarism will be treated very seriously: you can expect to receive a grade of 0 on the assignment as well as other penalties depending on the seriousness of the offence. In most cases, the penalty for plagiarism is an F on the course.
Class
Week
Date
Topic
Reading
Blog
1
Mon. 6/1
No class
Wed. 8/1
Syllabus
 
 
Fri. 10/1
What is "Grammar"
 
2
Mon. 13/1
Prescriptive vs. Descriptive

Blogs due: Last names A-G

Wed. 15/1
No class: Instructor absence

Blogs due: Last names H-N

Thur. 16/1
Essay 1 (Prescriptive vs. Descriptive Grammar)

DRAFT

due by midnight
Fri. 17/1
Prescriptive vs. Descriptive Draft discussion
 

Blogs due: Last names O-Z

3
Sun. 19/1
Essay 1 (Prescriptive vs. Descriptive Grammar) final copy due by midnight
Mon. 20/1
The Sounds of English

Brinton & Brinton Ch. 2
Brinton & Brinton Ch. 3

Blogs due: Last names A-G

Wed. 22/1
 
 

Blogs due: Last names H-N

Fri. 24/1
 
 

Blogs due: Last names O-Z

4
Mon. 27/1
Morphology

Blogs due: Last names A-G

Wed. 29/1
 
 

Blogs due: Last names H-N

Fri. 31/1
 
 

Blogs due: Last names O-Z

5
Mon. 3/2
Word Classes

Blogs due: Last names A-G

Wed. 5/2
 
 

Blogs due: Last names H-N

Fri. 7/2
 
 

Blogs due: Last names O-Z

6
Mon. 10/2
 
 

Blogs due: Last names O-Z

Wed. 12/2
 
 

Blogs due: Last names A-G

Fri. 14/2
 
 

Blogs due: Last names H-N

No class: Reading week (18/2-22/2)
7
Content Review 1 (Mon. 24/2-Sun. 2/3)
Mon. 24/2

Phrase Structure and Complementation

Blogs due: Last names O-Z

Wed. 26/2

Noun Phrases (NP), Adjective Phrases (AP), Adverb Phrases (AdvP)

 

Blogs due: Last names A-G

Fri. 28/2
 
 

Blogs due: Last names H-N

8
Mon. 3/3

Preposition Phrases (PP)
Introduction to Verb Phrases (VP) and simple sentences

 

Blogs due: Last names O-Z

Wed. 5/3
 

Blogs due: Last names A-G

Fri. 7/3
 
 

Blogs due: Last names H-N

9
Mon. 10/3
Adverbials, auxiliaries, and sentence types

Blogs due: Last names O-Z

Wed. 12/3
 
 

Blogs due: Last names A-G

Fri. 14/3
 
 

Blogs due: Last names H-N

10
Mon. 17/3
No class: Family day

Blogs due: Last names H-N

Wed. 19/3
 
 

Blogs due: Last names O-Z

Fri. 21/3
 
 

Blogs due: Last names A-G

11
Content Review 2 (Mon. 24/3-Sun. 30/3)
Mon. 24/3
Finite and non-finite clauses

Blogs due: Last names H-N

Wed. 26/3
 
 

Blogs due: Last names O-Z

Fri. 28/3
 
 

Blogs due: Last names A-G

12
Mon. 31/3
 
 

Blogs due: Last names H-N

Wed. 2/4
 
 

Blogs due: Last names O-Z

Fri. 4/4
 
 

Blogs due: Last names A-G

13
Mon. 7/4
Conclusion and praxis

Blogs due: Last names H-N

Wed. 9/4
 
 

Blogs due: Last names O-Z

Fri. 11/4
 
 

Blogs due: Last names A-G

14
Mon. 14/4
 
 

Blogs due: Last names H-N

Essay 2 due
Wed. 16/4
Study period (no class)
Fri. 18/4
Study period (no class)
15
Final Exam Period 22/4-30/4
Teaching Grammar

As a supplement to the unessay, Dan asked me to take a quick look at whether or not teaching the formal rules of grammar has any use; Does it improve a student's writing?
The short answer is an unequivocal no. In the article "Responses to Error: Sentence-Level Error and the Teacher of Basic Writing" Foltz-Gray argues, through a series of studies spanning several decades, that teaching grammar has no positive impact on student writing, and in may cases is detrimental. Below are a few of the studies.
Richard Braddock's landmark 1963 study for the National Council of Teachers of English, Research in Written Composition, concludes 'in strong and unqualified terms' that the teaching of formal grammar "has a negligible or, because it usually displaces some instruction and practice in composition, even a harmful effect on improvement in writing" (19).

Study conducted twenty-years later: "School boards, administrators, and teachers who impose the systematic study of traditional school grammar on their students over lengthy periods of time in the name of teaching writing do them a gross disservice which should not be tolerated by anyone concerned with the effective teaching of good writing" (19)

2004 study University of London: "published a review of over 4500 studies on the effect of formal grammar instruction on improvement in the 'accuracy and quality' of writing in learners aged 5 to 16. The reviewers found no 'higher-order' evidence that formal grammar instruction has a beneficial effect on writing performance" (19).
These studies were done independently of one another, across time, and across space, but they all came to the same conclusion: teaching grammar is unimportant. This is not to say that grammar is unimportant, rather, we understand the rules of grammar intuitively and teaching the rules tends to make us self-aware of things we do quite naturally. But what does all of this have to do with the unessay?
Teaching grammar and the smaller constituents of language is known as "bottom-up writing" (letter-word-sentence-paragraph-essay). The thinking is that a solid base can be built on. We master the basic components of language and then move on to essays. The unessay represents the opposite end of the spectrum: top-down writing which is "the entire essay, not sentences or paragraphs, should be the focus–and starting point–of instruction" (24). This theory assumes that we understand the basics of language because we are exposed to them all of the time. Top-down writing, based on the research, seems to be the more successful of the two approaches.
Interestingly though, there are parts of the unessay that represent a bottom-up approach, making it a sort of as yet underutilized hybrid. The unessay focuses on the whole of the work–an entire paper–but it does not employ the rigid rules of the formal essay. Instead, the unessay allows the writer freedom to explore his/her ideas and form, with the belief that this will eventually liberate him/her when writing a formal essay. Perhaps merging these two styles will be the key to producing consistent, quality writing.
Grammar Essentials 2: Parts of Speech (Word Classes) Exercise Answers

Here are possible answers to the exercises in Grammar Essentials 2: Parts of speech. In some cases more than one right answer might be possible.
1. Place each word in the following sentence in its Word Class using the above tests. Which Word Class(es) is or are missing?:
Over the mountain lived a former mechanic. Suzy forgets his name.
| | | |
| --- | --- | --- |
| Form | Word Class | Sample Test(s) |
| Over | Preposition | Followed by Noun Phrase the mountain |
| the | Determiner | First word in a Noun Phrase, the mountain; would precede any adjectives: the [big] mountain, not *[big] the mountain |
| mountain | Noun | You can make the word plural (mountains) or possessive (mountain's); it is already preceded by a determiner in the sentence (the mountains) |
| lived | Verb | You can change its tense (lived :lives) and number (a former mechanic lived : I lived). |
| a | Determiner | First word in a Noun Phrase, a mechanic; would precede any adjectives: a [funny] mechanic, not *[funny] a mechanic |
| mechanic | Noun | You can make the work plural (mechanics) or possessive (mechanic's); it is already preceded by a determiner (a mechanic) |
| Suzy | Noun (Proper) | Can be made possessive (Suzy's) (proper nouns normally are not preceded by Determiners and are not usually plural) |
| forgets | Verb | You can change its tense (Suzy forgets : Suzy forgot); you can change its person (Suzy forgets : I forget) |
| his | Pronoun | It is not a noun (can't take an article or be replaced by a pronoun), and it is in the possessive); different forms of his can serve as a subject or prepositional object: he is here ; give it to him |
| name | Noun | Can be made plural (names); can be made possessive (name's); can be preceded by a determiner (the name) |
2. When Hamlet says that bad acting "out-herods Herod" (Hamlet, III.ii), meaning to rage and rant, he is using a proper name for a verb. What tests can we use to show that out-herods is a verb?
We can show that it is possible to change the

Tense: he out-herods Herod : he out-heroded Herod
Person: he out-herods Herod : I out-herod Herod
Number: he out-herods Herod : they out-herod Herod

These are all tests for verbs.
3. Although it is impossible for individuals to create new Closed or Structure Class words, the English language has acquired new pronouns over the course of its history: the entire plural pronoun system they, them, their comes from Old Norse (the original English version was hie, hira and him); she is of unknown origin (the original was heo).
Can you suggest some reasons why it is possible for languages to add or change such words but not for individuals?
One possible explanation is that structure words primarily express relationships (look up the definitions of and or but in a dictionary for example), unlike Open Class words, which are signifiers for some external idea, event, concept, or the like. So a new pronoun for "feminine singular subject" can be introduced into the language only when a group of people understand that the new form expresses this relationship.
Basic Old English Grammar

Old English as an Inflectional Language
Old English and Modern English can be deceptively similar from a syntactic point of view. In particular, word order frequently is the same in the two languages (though Old English is actually probably closer in some aspects of its word order to other Low German languages such as Dutch). This means that it is often possible to translate simple declarative sentences from Old English by simply looking up the meaning of each word in a dictionary.
This similarity is deceptive, however, because speakers of Modern English and speakers of Old English thought of their languages' grammar in different ways. To speakers of Modern English, word order is by far the most important syntactic clue to a sentence's grammar: we always try to make the subject of a sentence out of the first word or phrase and the verb out of the second, even if other features are telling us otherwise.
To speakers of Old English, on the other hand, word order was only one clue to a sentence's grammatical sense—and even then not necessarily the most important: a speaker of Old English would pay as much or more attention to a word's inflections (special endings—like "apostrophe s" in Modern English—that indicate a word's grammatical function in a sentence) in deciphering a sentence as to a word's position in the sentence.
This can be best illustrated by an example. Consider the following sentence:
me broke the bridge
Most speakers of Modern English, would understand the above sentence as meaning "I broke the bridge." Although the "subject" me is actually what most standard varieties of English would consider to be an object form, its position at the beginning of the sentence trumps this consideration: the word comes first, so it must be the subject; the bridge, likewise, must be the object, because it follows the verb—even though its form would also suit a subject. In other words, no speaker of Modern English would allow the information provided by the sentence's morphology (the form of the words and their endings) to overrule conflicting information from the sentence's word order. Except in the most extreme cases—such as in the following sentence, which an informal survey suggests most speakers of Modern English have trouble understanding—speakers of Modern English always resolve conflicts between word order and morphology in word order's favour:
The girl's breaks the bridge
Speakers of Old English, on the other hand, seem to have privileged morphology over word order. When information from a word's position in the sentence and its morphology conflict, morphology generally triumphs.
Here are two translations of the first example sentence into Old English:
me bræc þære bricg
me bræc seo bricg
Semantically (in terms of meaning), the words in each sentence are identical to the first Modern English example: me means me, bræc means broke, seo and þære are both forms of a word meaning the, and bricg means bridge.
Syntactically, however, only the second sentence makes any kind of sense in Old English—and it means "the bridge broke me." If we keep me, the object form of the first person pronoun, as the first word of the sentence, the sentence can never mean "I broke the bridge" in Old English1; to an Anglo-Saxon, a subject is only a subject if it has the correct morphological form. In the first Old English sentence, all the words except the verb broke are in the object form (þære is an object form of "the" in Old English): to a speaker of Old English, it is as hard to decipher as "The girl's breaks the bridge" is to us. In the second Old English example, seo bricg is in the subject form (seo is a subject form of "the"). To an Anglo-Saxon, that means it must be the subject, despite its odd place in the sentence (Anglo-Saxons prefer Subject-Verb-Object word order, just like we do, even if they can understand sentences that violate it).
What this means is that in learning to read Old English, we must train ourselves to privilege morphology over word order. If the endings don't make sense, we have to train ourselves to find the sentence as being as non-sensical as "The girl's breaks the bridge," regardless of whether we think we could come up with a sensible sentence by just following the word order.
It also means that we will have to learn some inflectional morphology (i.e. the pattern of endings, like "apostrophe s" in Modern English, that indicate a word's grammatical function in a sentence). Modern English has relatively little inflectional morphology: nouns can have 's or s' for the possessive and indicate singular and plural; verbs can use the presence or absence of s to indicate person in the present (i.e. whether the subject is "I", "you" or "he/she/it." Only in the case of the personal pronouns (I/we, you/you, he, she, it/they) do we have a more complete set of endings that allow us to do things like distinguish among subjects and objects (a more thorough discussion of basic Modern English morphology can be found in my tutorial Grammar Essentials I: Inflections/Inflectional Morphology):
First person pronoun
Number
Function
Form
Singular
Subject
I
Object/Indirect Object
me
Possessive
my
Plural
Subject
we
Object/Indirect Object
us
Possessive
our
Second person pronoun
Number
Function
Form
Singular
Subject
you
Object/Indirect Object
you
Possessive
your
Plural
Subject
you
Object/Indirect Object
you
Possessive
your
Third person pronoun
Number
Function
Form
Singular
Subject
he she it
Object/Indirect Object
him her it
Possessive
his her its
Plural
Subject
they
Object/Indirect Object
them
Possessive
their
In Old English, similar patterns of inflections are found on other types of words as well: articles (more properly in this case known as demonstrative pronouns), like this, that, and the; nouns; and adjectives. In the same way we can distinguish between subject and object forms of a pronoun by form (even if we sometimes ignore this information), so too Anglo-Saxons can distinguish between subject, object, possessive, and even indirect object forms of their pronouns, nouns, and adjectives (you can brush-up on your knowledge of Modern English word classes with my tutorial Grammar Essentials 2: Parts of Speech/Word Classes).
Learning these forms is a major goal of any Old English course. As you progress with our translations you will become increasingly familiar with the different forms for the various parts of speech. To begin with, however, we can start by learning the endings on the demonstrative and personal pronouns. These both (in the case of the personal pronouns) are the most similar to what we already know as speakers of Modern English, and, fortunately, show endings that we will see over and over again with other forms.
A note about terminology
In the above discussion, I have used the terms "subject," "object," "indirect object" when speaking of both word order and morphology. In actual fact this is not really accurate: subject, object, indirect object, and possessive are really syntactic functions (words that describe what a word does in the sentence) rather than morphological categories (some of which can perform more than one function). From now on, we will be using the more tradition inflectional terminology to describe cases:
| | |
| --- | --- |
| Syntactic Function | Morphological Form |
| Subject | Nominative |
| Object | Accusative |
| Possession | Genitive |
| Indirect/Prepositional Object | Dative |
Each morphological form can perform more than one function—in Old English you use the subject form to call people as well as indicate the subject of a sentence, for example. But as a rule of thumb, the above table shows the main equivalences.
———————————-
Notes
1 "Never" is a large claim. In actual fact, of course, writers of Old English, like writers of any other language occasionally commit solecisms and in the very late period the endings became more confused.
How to Study Old English (or Latin or any other dead language) for a Test or an Exam

Introduction
Students who study Old English need to call on skills and learning techniques that they probably have not had much opportunity to use in other university-level literature classes, especially if this literature was in their native language. They need to know and keep in the front of their minds the grammar of both Old English and Modern English; they need to do intensive work with dictionaries and glossaries; and they are working with texts that can seem quite alien to modern sensibilities.
So how should you study in Old English class? Here are some tips I've compiled from personal experience and asking other scholars of my generation who have studied ancient or medieval languages (e.g. Latin, Greek, Old English, Old Frisian, etc.).
There is one principle running through them all: the point of an Old English class is to learn Old English. In everything you do you should keep the Old English at the centre of your work.
1. Do not write in your text book
The first tip is to avoid writing in your text book. When you come to study for a final exam, you will find a clean text book is much more useful for self-testing than one that has all your glosses marked on the page.
2. Write out the original text (in Old English) in your note book (1 side of the page, triple or quadruple spaced)
Writing out the target language is a useful habit to get into in the early days of your language study. It gets you used to the spelling conventions and trains your eye as to standard linguistic and lexical patterns. You may even find by the end of the semester that you are beginning to recognise unusual forms (particularly morphology) as you copy them out.
Triple or quadruple space your text in order to give you plenty of space for glossing, arrows, and corrections from your seminar.
You should write out your text on one side of the page only so that you can use the back of the previous page for additional notes: writing down words you find yourself looking up constantly (I used to write out every word I looked up), explanatory notes or idiomatic translations.
3. Gloss both sense and syntax.
As we've mentioned in class, translating from Old to Modern English involves two distinct types of translation: lexical/semantic and syntactic. It is not enough to know what a word means, you also need to understand what its inflections and position tell you it is doing in the sentence. Get in the habit early of writing both the meaning and information about grammatical form of words in the specific context you are translating—e.g. case, gender, number, person, tense, part of speech, etc. as applicable.
When you are glossing words, be sure to reflect the Old English syntax in your gloss. If you discover that a form like scipes is genitive singular, for example, gloss it as "of a ship" or "a ship's" not as "ship"—this will help you put the sentence together in your head by preventing you from placing the form in the wrong place in your sentence.
This approach is particularly important with personal pronouns: the dative singular third person plural personal pronoun should be glossed initially as "by/with/to/for them" and not as "they" (which would be nominative, after all).
4. Leave the words in Old English word order and use arrows or numbers to indicate the correct order for your translation.
While it is tempting, especially in the early weeks of a class, to bring a finished running translation to class, this is less useful in the end than a glossed text. If you make a mistake in a finished translation, it can be difficult to correct—you need to rewrite your translation and this can be very difficult to do quickly in class. The problem is worse if you bring only a modern English translation to class: you'll end up having no idea what went wrong because you won't have a glossed Old English to consult.
If you leave the text in Old English word order and use arrows or numbers to help you figure out the order you should be using in your Modern English, you'll find in-class correction much easier. Made a mistake in word order? Just scratch out the wrong arrows and add new ones showing the correct order.
5. Study by rereading everything—Two or three times!
The best way of studying for a translation exam is by rereading everything several times.
This may seem like an impossible task—how could you possibly reread in reading week or the week before an exam texts that took the entire class an entire semester to translate the first time?
In actual fact, you'll find the translation goes much fast the second and third and fourth times:
You know a lot more than you did at the beginning of the semester
Your notebook has all the dictionary work and syntactic information and arrows you need, so you don't need to look everything up again
You know what the texts are about now, and, if you've been attending class, should recognise the difficult passages as soon as they show up in your reading.
I recommend the following approach to rereading your material
On your first pass, read the Old English from your text book (fortunately you've not marked it up!). Keep your notebook open beside you. Consult your notebook as often as you need, but focus on your text book: you are trying to retranslate everything, not study your previous translations.
On your second pass, try to read the Old English from your text book. This time, try not to consult your notebook except when you are really stuck. If you find yourself looking up words that you know you should know, write down these words and their translations on a list that you can use to study/memorise later.
On your third and fourth passes try to read the Old English from your textbook with your notebook closed. If you really need to look something up, go ahead (either in your notebook or using the gloss at the back of the book), but push yourself not to. If you are stuck, try guessing before you look things up. Guessing is also a good skill to practice before you go into the exam!
By the time you've completed your third or fourth pass you are as prepared as you are ever going to be: get a good night's sleep and come to the exam with a clear head!
Grammar Essentials 2: Parts of Speech (Word Classes)

Words are different from each other in meaning—car and unwelcome mean different things, after all.
But they can also differ from each other in more than meaning: they can also differ in the way they are used in sentences.
Thus sentences can be about a word like car more easily than they can be about a word like unwelcome:
Cars are on the road
*Unwelcomes are on the road1
With a word like car, we also can talk about one or more examples: a car is here, cars are here. We can describe its qualities using other words like red, fast, or good: "red cars are here", "fast cars are here", "good cars are here". And a word like car can be said to possess things: the car's tires, cars' steering wheels
None of this is true of a word like unwelcome. But unwelcome can be used in ways a word like car cannot: it can be used to describe qualities of other words (The unwelcome news, This news was unwelcome, vs. *The car news or [*This news was car); it can be made more intense using words like very or really (it was very unwelcome, vs. *It was very car).
The real test, of course, is that the two words can't be switched in a sentence. We couldn't replace car with unwelcome in the example above, and it is impossible2 to replace unwelcome with car in this following sentence:
That was really unwelcome news.
That was really *car news.
It is possible, on the other hand, to replace car and unwelcome with other words, even if the meaning of the new words is nothing like that of the words they replace:
Bartenders are on the road.
That was really good news.
So why can car be replaced by bartender and not unwelcome or good? And why can unwelcome be replaced by good but not bartender or car?
The answer is that car and bartender, on the one hand, and unwelcome and good, on the other, are different types of words. As we will learn, car and bartender show in normal use most of the properties we associate with nouns while unwelcome and good show in normal use most of the properties we associate with adjectives. The fact that you can replace car with bartender and unwelcome with good shows that you can replace nouns with nouns and adjectives with adjectives more easily than you can replace words of one type with words of a different type.
This tutorial explores this property in greater depth. Traditionally, word classes have been distinguished on semantic grounds (e.g. "Nouns are the names of person places or things"; "verbs are action words"). As this tutorial will demosntrate, these traditional definitions, while not usually wrong, are often quite ambiguous. This is because the class a word belongs to is largely a question of syntax rather than meaning, especially given the ease with which English can move words from one class to another without any change in morphological form.
By the end of this tutorial you should be able to distinguish among word classes confidently.
Previous: Inflections (inflectional morphology) | Next: Grammatical relations
Words and Phrases
If we continue testing like this, we will also soon discover not only that some words are more easily exchanged with one other than with others, but also that individual words can be used to replace entire groups of closely connected words (and vice versa). For example, the word bartenders can replace more than cars in the following sentences; it also can replace entire groups of closely connected words involving cars—groups like the cars, the blue cars, and even the blue cars that sold so well last year:
Cars are on the road
The cars are on the road
The blue cars are on the road
The blue cars that sold so well last year are on the road
Bartenders are on the road.
On the other hand, we still can't use unwelcome to replace cars:
Cars are on the road.
*Unwelcomes are on the road.
If we experiment, we will see that we can't replace just any group of words using bartender: the words need to be somehow more closely related to each other than any other part of the sentence and involve a word like car. In the following sentence, for example, we can use bartenders to replace the blue cars, but not blue cars are on:
The blue cars are on the road
Bartenders are on the road
The blue cars are on the road
*The bartenders road3.
Clearly there is something about the words the blue cars that makes us think of them as being more closely connected to each other than to anything else in the sentence. And just as the fact that we can replace car with bartender but not unwelcome in the sentences above suggests that there must be something similar about car and bartender, so to the fact that we can use bartenders to replace cars and groups of closely related words like the cars or the blue cars suggests that there must be something similar about the single word cars and these particular combinations of words.
As we shall discover, combinations of closely connected words that behave in much the same way as individual words are known as Phrases. As we define the different types of words below, we will see that each type of word has an associated type of phrase to which many of the same rules apply. This principle will become very important when we come to talk about how sentences are made.
Open and Closed Word Classes
Another difference that separates words is the question of how easy or difficult it is to make up new examples. If I want to replace car or cars in the above sentences with a new word that I will make up myself—say slipshlup—I can do so very easily:
Cars are on the road
Slipshlups are on the road
The cars are on the road
The slipshlups are on the road
The blue cars are on the road
The blue slipshlups are on the road
The blue cars that sold so well last year are on the road
The blue slipshlups that sold so well last year are on the road
Bartenders are on the road.
Likewise, it is not hard to make up a word like unwelcome. How about griopy?
That was really unwelcome news.
That was really griopy news.
But if it easy to make up new words parallel to cars and unwelcome, it is much harder—impossible, in fact—to make up replacements for words like the, and, but or he, she, and it. For example, try repeating the following sentence with the following made-up words: hin for the, roop for and, and fries for she.
The cars and the boats were on the road, but they were not for sale, she said.
Doesn't make much sense, does it?
The Parts of Speech/Word Classes
If we compare English words in the way discussed above3, we will discover that it is possible to divide words and closely associated groups of words like them into eight main types, known as the parts of speech or word classes (a minor ninth category contains interjections. like "oh dear!" and "damn!" and is not discussed further in this tutorial). We will also discover that these Word Classes themselves fall into two larger groups based on whether or not we can easily add new examples: the Open Class contains word classes that we easily can add to—nouns, adjectives, most types of verbs, and adverbs; the Closed or Structure Class contains words, like prepositions, pronouns, conjunctions, most determiners, and some adverbs, to which we can not add easily:
Class
Word Class
Examples
Open Class
Nouns
car, bartender, experience
Adjectives
unwelcome, good, big, blue
Verbs
run, glide, listen, jog
Adverbs
quickly, well, sometimes, badly
Closed Class
Determiners
the, this, mine, Susan's
Prepositions
up, underneath, on, with
Pronouns
I, they, mine, each, these
Conjunctions
and, but, if, because
Open Classes
Nouns and Noun Phrases
Nouns are naming words. Traditionally they are defined as the names of persons, places, and things, but their actual range is much broader: they can name ideas, moods, and feelings (e.g. neoconservatism, anger, and affection); actions (the hiking), or pretty much anything else known or unknown (e.g. Slipshlup, above).
Fortunately, given how hard it can be to define them by what they describe, nouns and noun phrases can be defined relatively easily by their form and the contexts in which they appear. In particular they show one or more of the following unique features:
Nouns are the only words that use "apostrophe s" (i.e. 's or s') to show possession. In the following sentence, we know that Dave, Neoconservatism, and anger are all nouns because they indicate possession by adding -'s: Dave's book, Neoconservatism's origins, anger's solution.
Nouns are the only words that can be modified by adjectives: blue cars, unwelcome news, clever Sally.
Nouns are the only words that can be made plural by adding -s:

DVD

:

DVD

s, cup : cups, theology : theologies.
Nouns are the only words that can be pointed to by determiners. Determiners, as we will see below, are words such as the and a, that and this, and possessives such as his or Brigette's that point out specific instances of a noun, e.g. the boat, a slipshlup, that hiking, Brigette's

DVD

, his anger.
Nouns and Noun Phrases are the only words that can be replaced by a pronoun: The deer grazed quietly at the side of the road : It grazed quietly at the side of the road
Other tests are not entirely exclusive, for example:
Nouns and pronouns are the only words that can function as the subject of a sentence: The car ran through the red light : It ran through the red light.
It is important to realise in applying these tests that not all words will fit all categories. Some nouns do not form their plural with -s, for example: e.g. child : children; sheep : sheep. What is important is that one or more of these tests be true.
Verbs
Verbs are traditionally defined as "action words." Even more than with nouns, however, this definition fails to cover more than a narrow range of possible examples or rule out obvious counter-examples. While some verbs do express action (e.g. she hit the wall with a hammer), others do not (e.g. I am the king, he knows his baseball). Moreover, actions can also be named by nouns: This hiking is very hard; I don't like all this hitting).
Like nouns, verbs can be defined more accurately on grammatical criteria. Particularly useful ones include:
Verbs are the only words that show tense (i.e. past or present): he loves cheesecake : he loved cheesecake; I drive fast : I drove fast.
Verbs are the only words that indicate third person singular, present by adding -s at the end: I drive, he drives
Verbs are the only words that can be made into participles (i.e. adjective forms) using the endings -ed, -en, or -ing: I love : loving : loved; They drive : driving : driven
Verb Phrases include the verb plus all objects and modifiers. These can get quite large. One test for some verb phrases is replacement by do in questions designed to be answered with "yes" or "no".
Bobbi loves getting presents in the morning, does she?
In asking the question "does she", the speaker is summing up the whole idea "loves getting presents in the morning" by a single form of do. This shows that "loves getting presents in the morning" is a Verb Phrase.
Adjectives
Adjectives describe qualities to nouns. One easy test, though it is also true of adverbs, is placing very or really in front:
Adjectives and adverbs are the only words that can be made more intense by adding very or really in front: the really fast car was very red
Here are some tests that are only true of adjectives:
Adjectives are the only words that can have endings to indicate that something is more or most in relation to some quality: the fast car was red : the faster car was green : the fastest car was blue. Of course some adjectives don't use -er and/or -est: more unwelcome not *unwelcomer; best nor goodest.
Adjectives and adjective phrases are the only words that can appear between determiners (like the, a, or possessives) and nouns: the fast car, Dave's really nice cake, a very sad clown.
Adverbs
Adverbs are traditionally described as words that modify verbs. In fact there are three different kinds of adverbs, each of which can be distinguished by context.
Intensifying adverbs
Intensifying adverbs are words like very that are used to qualify adjectives and other adverbs. They do not qualify verbs directly: his very angry cousin vs. *he very jumps. Some intensifying adverbs can be used with slightly different meaning to modify verbs: he skates really fast, he really skates.
Sentence adverbs
Sentence adverbs qualify sentences and clauses: Unfortunately, the boat sank; I don't want to, however; then he knew for sure.
Verbal adverbs
Verbal adverbs qualify verbs: He jumped quickly, he wrote well. Like adjectives, they can be intensified by words like very: she drove very quickly, Beatrice cooks really well.
Closed class words
Determiners
Determiners are words that are used to point out specific instances of a noun. They include the articles (a, the), demonstratives (this/these, that/those), and all possessive nouns and pronouns (this means that a form like Dave's in Dave's book is both a noun and a determiner).
The test for determiners is very straightforward:
Determiners precede nouns and any qualifying adjectives. The first word in each of the following phrases is a determiner: the book, the large book, Dave's really ugly book, my car, my sister's car (in this last example, both my and my sister's are determiners: my points to sister and my sister's points to car).
Prepositions
Prepositions serve to connect nouns or noun phrases (e.g. cars or the car) to a clause or sentence. Examples include up a mountain, down the street, with friends, beside him, without a wooden paddle.
In English, there are a relatively small number of simple prepositions, such as up, down, with. There are also a number of phrasal or compound prepositions, especially in spoken English: outside of the English, apart from Dave's cat, round and round the mountain.
Many of the prepositions can be memorised. Otherwise, prepositions can be recognised by their syntactic context:
Prepositions are always followed by noun phrases (i.e. nouns with any associated determiners and adjectives, or pronouns) that serve as their objects5.
Pronouns
Pronouns are words that can substitute for nouns or noun phrases. Examples include personal pronouns like she/her, I/me/my, they/them/their; demonstratives like this/these, that/those; and other forms, such as each, none, and one:
My sister is here. She wants to talk to you.
The green carrots are probably rotten. I wouldn't eat them.
My books are here. These over here are yours.
The members of the committee were awstruck. None had expected this.
Because pronouns replace nouns, they can be identified using some of the same tests. In particular,
Pronouns (with nouns) are the only words that can serve as the subject of a sentence: he ran the country; she scored five goals; it was hit by a train.
Pronouns (with nouns) are the only words that can serve as the object of a verb or preposition: outside this, with him, she cut it.
Pronouns (with nouns) are the only words that can take a possessive inflection—though unlike nouns, the possessive is never 's or s' and rarely s: my books, your garage, her cannon, his snow shovel6.
Conjunctions
Conjunctions are used to join grammatical units. Unlike prepositions, which join nouns or noun phrases to sentences, conjunctions always join elements of a similar kind: nouns and noun phrases to other nouns and noun phrases, verbs to verbs, adjectives to adjectives: it is raining cats and dogs (noun to noun); I neither pushed nor pulled (verb to verb); I went out because he didn't come in (clause to clause).
Exercises
The following exercises test you on your ability to apply the above material. The real test of your knowledge of grammar is not whether you are able to memorise terms and definitions, but whether you can supply examples and describe real-life sentences.
1. Place each word in the following sentence in its Word Class using the above tests. Which Word Class(es) is or are missing?:
Over the mountain lived a former mechanic. Suzy forgets his name.
2. When Hamlet says that bad acting "out-herods Herod" (Hamlet, III.ii), meaning to rage and rant, he is using a proper name for a verb. What tests can we use to show that out-herods is a verb?
3. Although it is impossible for individuals to create new Closed or Structure Class words, the English language has acquired new pronouns over the course of its history: the entire plural pronoun system they, them, their comes from Old Norse (the original English version was hie, hira and him); she is of unknown origin (the original was heo).
Can you suggest some reasons why it is possible for languages to add or change such words but not for individuals?
---
Notes
1 An asterisk (i.e. *) in front of a word or group of words means "This word or group of words is not something people would say". An explanation mark (i.e. !) in front of a word or a group of words means "It is doubtful that this is something people would say" or "People might say this, but only in special circumstances"
2 "Impossible" may seem too definite at first. In fact it is almost always possible to think of a situation in which a grammatical rule might be shown to be wrong: for example, let's say we were talking about a band called "The Unwelcome"—then they probably could replace car in our example sentences.
As a rule, however, you should always be suspicious of counter-examples that require you to create a "back-story" to explain the conditions under which an exception might work. The fact that you need a story to explain the context is evidence that the counter-example is very unusual in normal speech.
3 You could say "The bartenders' road" or "The bartender's road", but that would not really count, since cars in the original sentence did not have an "apostrophe s." In the starting sentence, cars was plural, not possessive or plural possessive.
4 Traditionally, students learned to categorise the parts of speech on the basis of meaning. For example, nouns were said to be "the name of a person, place, or thing," while verbs were described as "action words." While there is some truth to these definitions in many cases, the distinctions break down very easily in others. The fighting is a noun, even though it describes an action; is, on the other hand, is a verb, even though it describes a state.
Since words are a feature of grammar, the method used here attempts to identify them on the basis of their grammatical properties: the roles they can play in the sentence, the inflections they can take, how they can be converted from one part of speech to another.
5 "Always", except in poetry, where they can sometimes follow the words they connect to the sentence.
6 This rule—pronouns never end in apostrophe -s—might be useful in helping you avoid the common stylistic/prescriptive grammar error of using it's (actually the abbreviation for it is) in your writing instead of the possessive form, its. In speaking, of course, you can't hear any difference.
Previous: Inflections (inflectional morphology)
Grammar Essentials 1: Inflections (Inflectional Morphology)

For the most part, English uses word order to indicate the relationship among words in sentences. When I say "The boy bit the dog", people listening to me know that it was the boy who did the biting because The boy comes first in the sentence. Likewise, they know that it was the dog that was bitten because the dog comes after bit.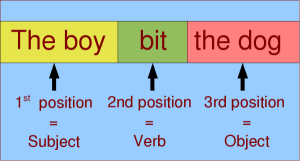 If I reverse the positions of boy and dog the sentence changes meaning as well: now the dog is doing the biting: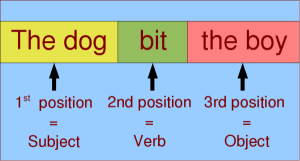 But not all relationships among words in sentences are indicated by word order. Sometimes we use special forms of a word or add sounds or syllables (known as inflections) as to the end to indicate particular relationships among words1.
For example, if I say "She broke the girl's hockey stick", we know that the hockey stick was owned by the girl because the word girl comes before the hockey stick and has an -'s on it2.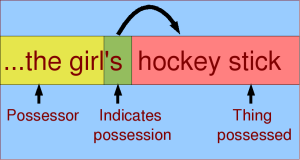 Likewise, we know that she—whoever she might be—broke the girl's stick both because the word comes first in the sentence and, more importantly, because the word is she and not some other form like her; in fact, if I replace she with her, but make no other changes, the sentence will not make sense to most speakers of English3: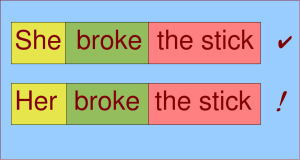 Endings such as -s and changes in form such as between she and her are known broadly as inflections. English now uses very few and relies mostly on word order to express such relationships (other languages and earlier stages of the English language rely much more heavily on inflections than does Modern English).
This tutorial looks at English inflectional morphology. That is to say the grammatical endings used in English.
Previous: Introduction | Next: Parts of Speech (Word classes)
The most common inflection by far in Modern English is -s. This is used with or without an apostrophe to indicate any one of a number of relationships, depending on the type of words involved and the context in which they are found.
On nouns (words like boy and music "the boy" and "good music"), for example, -s is commonly used to indicate
singular possession
plural
plural possession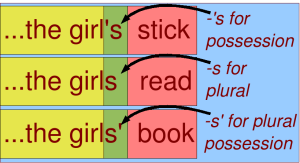 On verbs (words like run in "he runs quickly"), s is used to indicate that the sentence is taking place in the present and is third person singular (i.e. about something that be described using he, she, or it, rather than I or you).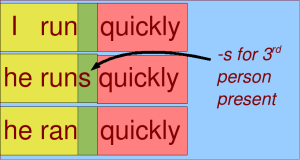 Another inflection used with verbs includes -ed, which is used with some verbs to indicate that the sentence is happening in the past (e.g., "I loved him" compared to "I love him"). Some verbs use changes in form to indicate the same thing (e.g. "They sang well" compared to "They sing well"). Inflections or changes in form can also be used to indicate whether a statement reflects a real or non-real situation (e.g. "She is a police officer; she is nice", where the situation described is assumed to be real, compared to "Were she a police officer, she would be nice", where the situation described is not real—i.e. she isn't a police officer and isn't nice).
Many adjectives (words like tall in "the tall girl") use the inflections -er and -est to indicate comparison: "the taller girl" is more tall than "the tall girl" and "the tallest girl" is the most tall of all.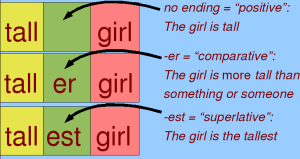 The words that show the most complete set of inflections, however, are the pronouns (words like he, them, _her, she, and its). Here, different forms of the word are used to indicate a number of different types of relationships whether something is the subject or object of a verb (I in "I hit Dave" against me in "Dave hit me"), singular or plural (he against they), or possessive singular against possessive plural (her against their).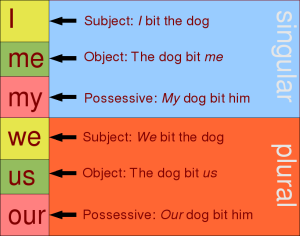 Paradigms
As the above suggests, inflections found on different types of word can mean different things. The -s on runs in "he runs quickly", for example, means something different than the -s on girls in "The girls went to the game". Likewise, similar types of words can sometimes use different inflections or changes to indicate the same type of relationship. While car and church both use -(e)s to indicate plural, for example, child uses -ren (children) and sheep uses nothing at all ("one sheep, ten sheep"). Sometimes, different versions of English can use different forms for the same word. North American and British people, for example, differ in whether you should say "I dove into the water" or "I dived into the water." Often these differences reflect forms from earlier stages of the language or are the result of changes in the history of the language.
The following tables are known as paradigms. These lay out information about inflections for each type of word.
Because this is an introductory tutorial, I have only presented the most common examples of each type of word. An exercise at the end asks you to come up with some more unusual examples.
Pronoun Inflections
Pronouns are words like I and them that can stand for nouns in sentences (for example: "This is my sister. She is the tallest woman I know," where she in the second sentence stands for sister in the first sentence). Pronouns have the most detailed inflectional system in English: depending on the specific example, they can show distinctions to indicate whether a word is singular or plural, the subject or object of a sentence, or singular or plural possessive.
The most complete set of pronouns is found in the first person (i.e. I and we) and the third person singular masculine (i.e. he) and plural (i.e. they). The other pronouns all have more overlap or unchanging forms.
Number
Function in sentence
Form
Singular
(i.e. one)
Subject
I
you
he
she
it
Object
me
you
him
her
it
Possession
my
your
his
her
its
Plural
(i.e. more than one)
Subject
we
you
they
Object
us
you
them
Possession
our
your
their
Noun Inflections
Nouns (words like girl, woman, child, and sheep: a more complete definition is given in the next tutorial) have next most complete system. For most nouns (there are some exceptions), we can distinguish singular against plural and between possession and all other functions. Note how in the noun paradigm, the same form of each noun appears for the subject and the object:
Number
Function in sentence
Form
Singular
Subject or Object
girl
woman
child
sheep
Possession
girl's
woman's
child's
sheep's
Plural
Subject or Object
girls
women
children
sheep
Possession
girls'
women's
children's
sheep's
Adjective Inflections
Adjectives (words like blue, quick, or symbolic that can be used to describe nouns) used to have many of the same inflections found on the nouns and pronouns. In Modern English, however, the only inflections that remain are used to indicate degree of comparison and not all adjectives can show even this: while most short adjective can use -er and -est, longer adjectives use more and most before the word in question:
Degree
Form
Positive
blue
quick
symbolic
Comparative
bluer or
more blue
quicker
more symbolic
Superlative
bluest
quickest
most symbolic
Verb Conjugations
Verbs are words like [he] loves, [I] think. Inflections on verbs indicate tense (past vs. present: he loves vs. he loved), number (singular vs. plural: he loves vs. they love), and person (first vs. second vs. third: I think vs. you think vs. she thinks or the boy thinks).
Inflections can also be used to distinguish forms of the verb that are used in different kinds of contexts: for example, adding -ing to a verb makes a form that can be used as a noun or an adjective (compare "I fight" against "the fighting ended today" or "the fighting schoolteachers were pulled apart by the principal"). This form can also be used with forms of the verb to be to indicate that the verb is describing something on-going (compare "I walk" with "I am walking" and "I walked" with "I was walking"). This difference is known as aspect.
A similar form can be built using either -ed or -en with a change in the form of the verb (e.g. "loved" and "driven")4. Forms like "loved" or "driven" can be used as adjectives (e.g. "the loved child" and "the driven snow") or, when combined with forms of to be, to indicate that the subject was the acted upon rather than acting (compare "I drove the team to the game" against "I was driven by the team to the game"—in the first the subject I was in control of the car; in the second, it was in a car controlled by the team). This contrast is known as voice: "I drove the team" is active voice, "I was driven by the team" is passive voice).
driven and loved, driving and loving are known as participles. driven and loved are past participles (because they refer to the past) and living and driving are present participles because they refer to the present,
The participles, both past and present, are known as non-finite forms of the verb. They are called this because they do not have subjects when they are used in sentences5. Non-finite forms can be contrasted, therefore, to finite forms of the verb, such as (I) drive, (we) drove, (Bob and Henry) thought, (Martha) wins. These are finite because they do agree with subjects.
There is one more non-finite form of the verb, the infinitive. This is the "dictionary form" of the verb (i.e. the form you would look under if you wanted to find out what drive means). In English, it appears in two forms, with and without to: "I want to drive" and "I can drive very well, thank you!".
As the difference between I love : I loved and I drive : I drove shows, most verbs in English can be placed in one of two main categories: verbs that change into the past by adding -ed (like love) and those that change into the past by changing the form of their stem (like drive). These two types of verbs are known as regular verbs (like love) and irregular verbs (like drive)—though it is not really true to say that drive is irregular, as other verbs follow similar patterns:
Finite vs. Non-finite
Tense
Number
Person
Form
Finite
Present
Singular
First and Second
(I / you)
love
drive
Third
(he / she / it / the woman)
loves
drives
Plural
All
(we / you / they / women)
love
drive
Past
Singular and
Plural
All
(I / you /he / she / it / the woman /
we / you / they / women)
loved
drove
Finite vs. Non-finite
Grammatical Form
Tense
Form
Non-finite
Participle
(i.e. can be used as adjective or noun)
Present
loving
driving
Past
loved
driven
Infinitive

(to) love
(to) drive
Exercises
The following exercises test you on your ability to apply the above material. The real test of your knowledge of grammar is not whether you are able to memorise terms and definitions, but whether you can supply examples and describe real-life sentences.
1. Give examples of four different inflections in sentences. Make sure you can give show on a verb, one on a noun, one on an adjective, and one on a pronoun.
2. How many different ways can -s (with or without an apostrophe) be used as an inflection in English? Give one example in a sentence for each.
3. Give an example in a sentence of a noun that does not use -s to indicate plural
4. Indicate the third person singular present word or words in the following sentence:
Snow White sees the seven dwarves, but they don't know that she knows who they are.
5. Give an example of an "irregular" verb like drive.
6. What is the plural of these?
---
Notes
1 I say sounds and syllables because I am thinking of how we speak. In writing, of course, we add letters and other symbols (like apostrophes) to do this. In speaking it is sounds.
2 Actually, if I say "She broke the girl's hockey stick" there isn't really an apostrophe—there is just an -s on the end.
3 Some speakers of particular types of English might be able to say a sentence like her broke the hockey stick in informal use, but you would not expect to see it in writing in an international or educated context.
4 Although it doesn't look like there has been a change in the form of the verb between drive and driven, there has been: the sound between dr and v is different. In drive it sounds like the i in bite; in driven like the i in bit. Other verbs make the change more obvious: e.g. speak vs. spoken.
5 You might think that driven does have a subject in the sentence Martha was driven on a train; Martha is the person who was driven after all! Martha is the subject, but not of driven: she is the subject of was. You can test this by trying it in the present: "I am driven" vs. "she is driven"—driven doesn't change to reflect the change in subject, but look at am vs. is.
Previous: Introduction | Next: Parts of Speech (Word classes)
Grammar: A Guide to the Essentials

This tutorial is intended for high school, college, and University students who need a quick guide the essentials of English grammar. Its goal is to help you understand the core grammatical terminology used in textbooks and lectures in courses on foreign languages, the History of English, Old English, or other medieval and classical languages.
The grammar taught here is descriptive rather than prescriptive—that is to say that its focus is on teaching you the terminology used to describe how language is actually used rather than current attitudes towards what is often called "correct grammar." In this tutorial, "he done real good" or "she didn't do nothing wrong" are considered legitimate English sentences, even though neither would be acceptable in most high school, college, or university essays1.
This tutorial is also not a complete course in descriptive grammar. In focussing on the essentials, I will ignore or give a very rapid overview of many important aspects of the subject. This guide will help you understand the most basic terminology. You'll need to do additional research or take a course on descriptive grammar to find out more. You will also find if you know some linguistics or grammar at any level of detail that I sometimes gloss over controversy. Nothing I say here should be wrong (if you find something, please let me know). But there is almost always much more to be said!
The guide is broken into two parts right now:
In the future I hope to add additional sections.
---
Notes
1 The study of so-called correct grammar is better described as style. There are numerous style guides available. See for example, the Library of Congress subject heading: "English language—Style—Handbooks, manuals, etc." at http://catalog.loc.gov/